Bitcoin's mining difficulty hit a record high after increasing 5.48% to 57.12 trillion. This rise signifies the need for a significant amount of computational power to discover blocks. Meanwhile, the network's hashrate also reached a record high this past week.
Bitcoin Difficulty Jumps to 57 Trillion, Hashrate Spikes to Fresh New Highs
On September 19, 2023, the Bitcoin blockchain recorded a 5.48% difficulty increase at block 808,416. This change followed the prior difficulty adjustment, which saw a 2.65% drop at block 806,400 on September 5. With the difficulty set at 57.12 trillion, it represents the toughest period ever for bitcoin mining.
The subsequent difficulty adjustment is anticipated on October 2, 2023. Since the surge to 57 trillion, the hashrate remains elevated, with current block times averaging nine minutes and 33 seconds.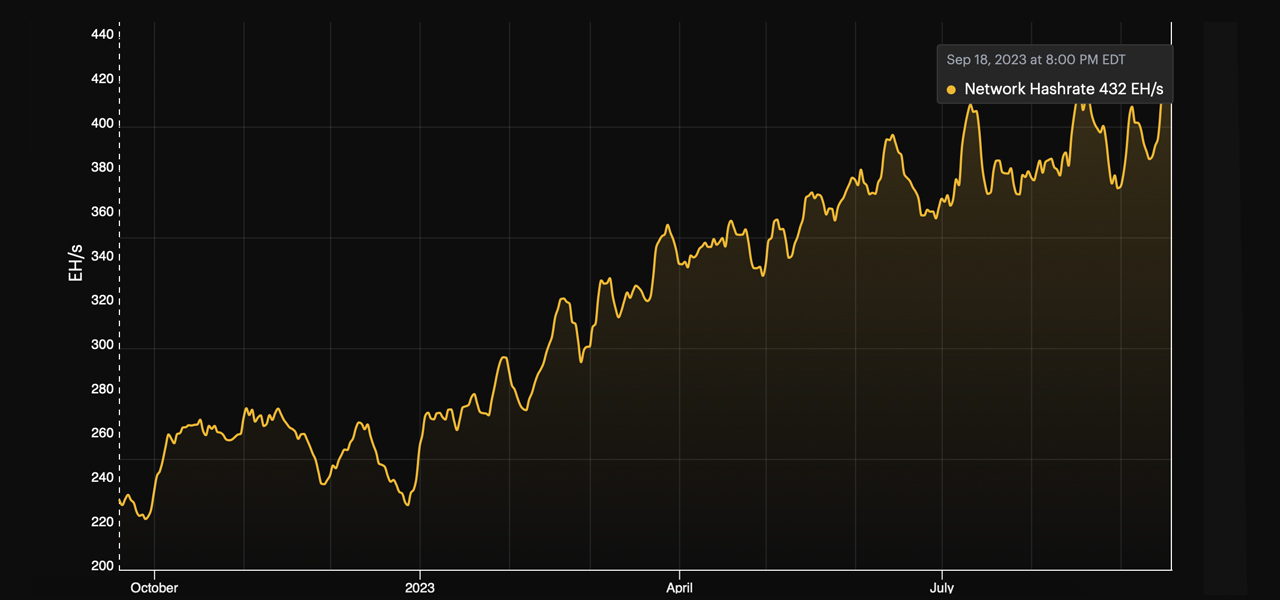 Bitcoin hashrate seven-day SMA on Sept. 18, 2023.
Over the last month, the hashrate's 30-day simple moving average (SMA) stood at 402 exahash per second (EH/s). The seven-day SMA reports 432 EH/s, while the three-day SMA shows a peak of 461 EH/s.
The network also set a 24-hour record with a swift ascent to 538.88 EH/s at block 807,830 on September 15. Currently, the hashrate hovers around 425.16 EH/s, with about 42 entities contributing SHA256 hashrate to the network.
The Foundry USA mining pool leads with 123.92 EH/s, accounting for 29.19% of the hashrate over the last three days. Antpool provides 95.25 EH/s or 22.44% of the total hashrate, while F2pool contributes 57.33 EH/s or 13.51% as of Tuesday.