Polygon (MATIC) has held steady above the $0.50 support level as altcoins gained ground on Bitcoin (BTC) over the weekend. Key on-chain indicators raise doubts that investors will HODL long enough to further drive the MATIC price recovery attempts.
Polygon (MATIC) price remains well above $0.50, as the bulls fiercely defended the critical support level over the weekend. However, key on-chain indicators suggest paper-handed holders could undermine the MATIC price recovery mission.
Renewed Network Activity Has Fueled MATIC Recovery Attempt
Confidence seems to gradually return to the Polygon ecosystem as MATIC's price recovered from its 2023 bottom of $0.48 to reclaim $0.52. On-chain data indicates that the recent increase in Polygon network activity could be behind the ongoing price resurgence.
The CryptoQuant chart below shows that the Polygon network recorded 4,621 transactions on September 22. Notably, this is the highest network traction in more than 50 days.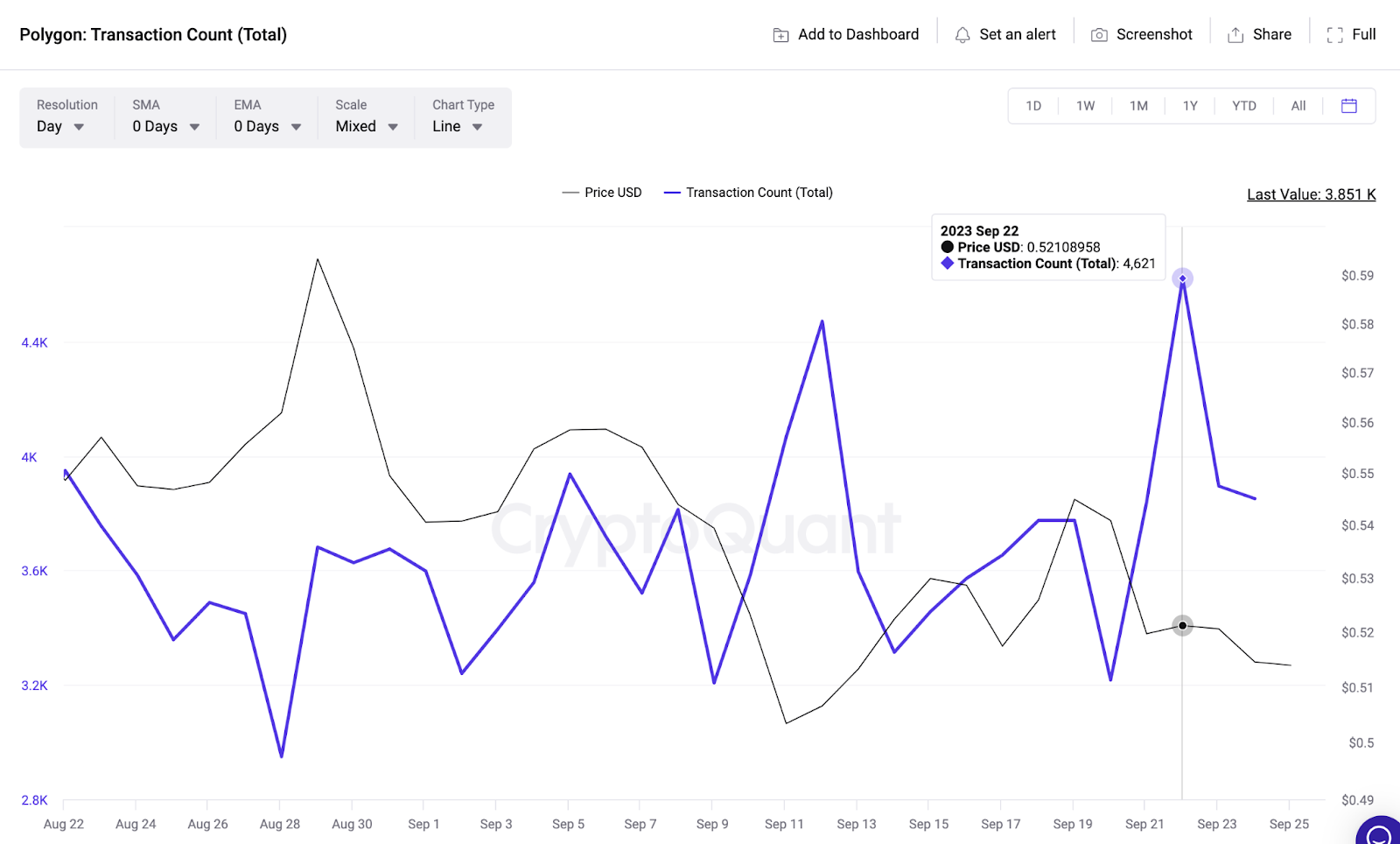 Will Polygon (MATIC) Price Retrace Below $0.50 | Transaction Count | September 2023. Source: CryptoQuant
By tracking the daily number of confirmed transactions, the transaction count metric estimates the level of economic activity on a blockchain network. Such a significant rise in network activity typically means that the underlying native token is in demand.
Unsurprisingly, MATIC's price has witnessed an 8% price bounce as it sits at $0.51 as of September 25.
However, since hitting the 50-day peak of 4,621 transactions on September 22, MATIC failed to scale the 4,000 mark in the following trading days. This raises questions on whether the Polygon network participants have enough in the tank to further drive the MATIC price recovery.
Read More: 6 Best Copy Trading Platforms in 2023
Investors are Keeping Their Chips On the Table
Earlier this month, Binance announced it would delist Polygon-hosted assets from its NFT Marketplace on September 26.
In response to the bearish news, MATIC holders moved 3.5 million tokens into exchanges within 72 hours of the September 8 announcement, bringing the total number of MATIC tokens in exchange-hosted wallets to 983.7 million.
As expected, the negative sentiment surrounding the exchange inflows eventually sent the MATIC price to $0.48 on September 11.
But curiously, MATIC holders have not undone the bearish action since then. Despite the noticeable price increase since September 11, MATIC exchange reserves still currently stand at 982.3 million tokens.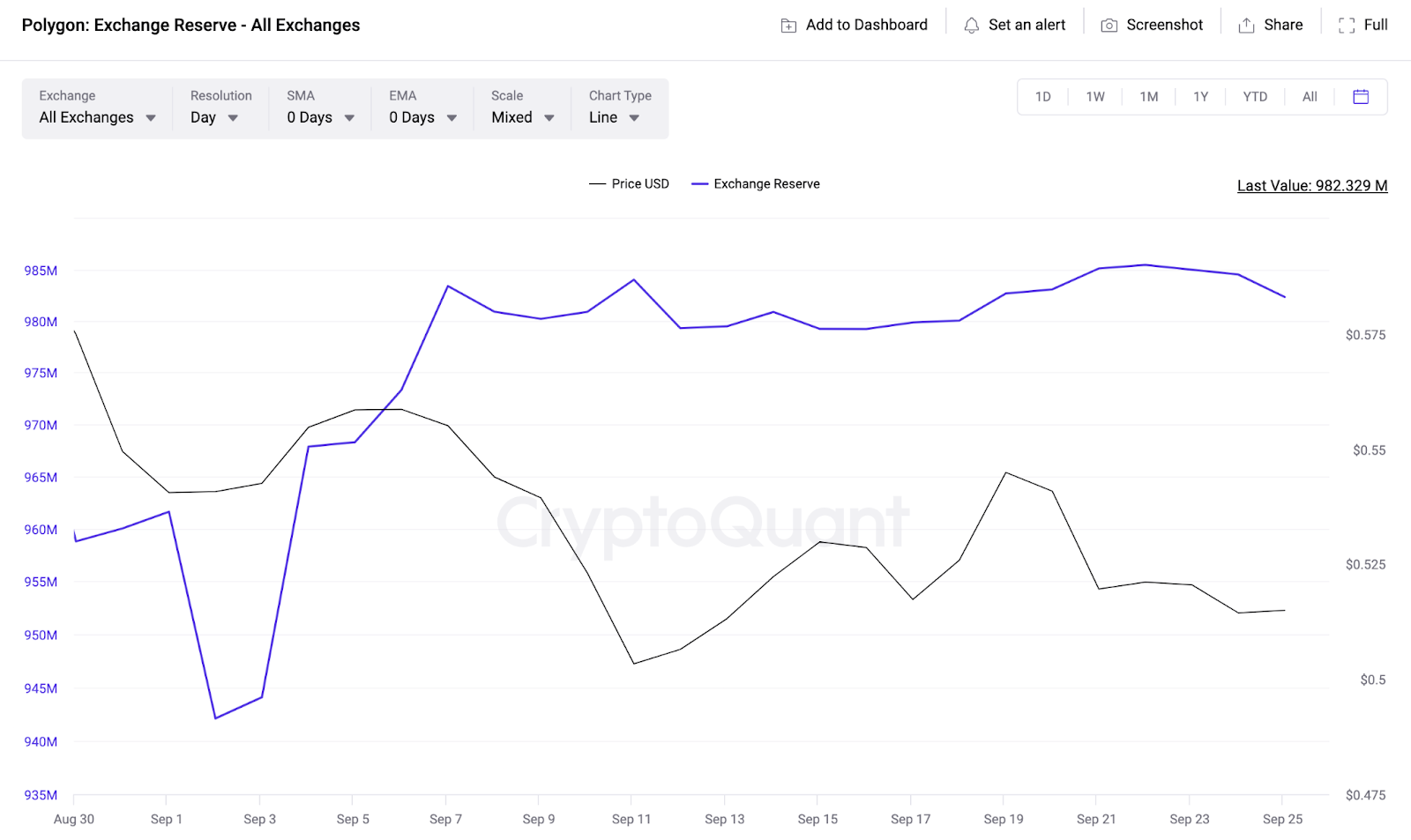 Will Polygon (MATIC) Price Retrace Below $0.50 | Exchange Reserves Source: CryptoQuant
The exchange reserves metric tracks the total deposits that holders of a cryptocurrency Polygon investors currently hold in recognized exchange-hosted wallets.
Typically, when investors keep a significant amount of token exchanges, it suggests that they may be looking to sell once prices become more favorable rather than HODL for a prolonged recovery.
The stagnation in Polygon network activity and relatively high exchange reserves could trigger another MATIC price correction. The bears will also monitor the market reaction after Binance officially discontinues support for Polygon on its NFT marketplace on September 26.
Read More: Top 11 Crypto Communities To Join in 2023
MATIC Price Prediction: Potential Drop to $0.45
From an on-chain perspective, losing the $0.50 could trigger a freefall toward the $0.45 level before the MATIC price finds significant support.
The In/Out of Money Around Price data, which outlines the purchase price distribution of the current Polygon investors, also supports this narrative.
As shown below, 23,250 addresses had bought 181.2 million MATIC tokens at the minimum price of $0.50. If they make frantic last-ditch buys to cover their positions, Polygon native token price could rebound.
But if the bearish sentiment intensifies ahead, MATIC's price will likely drop toward $0.45, as predicted.

Polygon (MATIC) Price Prediction | GIOM data | Source: IntoTheBlock
Still, Polycon bulls can wrestle control MATIC price rebounds above $0.80. However, as seen above, the 66,000 addresses had bought 1.7 billion tokens at an average price of $0.70. If exchange reserves remain high, they could book early profits and send MATIC into a bearish reversal.
Read More: 11 Best Sites To Instantly Swap Crypto for the Lowest Fees
But if the bulls can scale that sell wall, then MATIC price could break above $0.80 for the first time since July 2023.