ChatGPT could soon allow blockchain developers to have more free time. Independent developer CroissantEth created an Ethereum-based token by incorporating OpenAI's application programming interface (API) into a script.
ChatGPT was previously used to forecast crypto prices and predicted the success of several meme coins. The AI tool shares conclusions from analyzing open information and can create new crypto coins.
How to Use Artificial Intelligence in Cryptocurrencies
CroissantEth used AI to create the meme coin AstroPepeX (APX) based on the PEPE frog meme coin that skyrocketed in April. As a result, the mini-project garnered approval from crypto fans and accrued several million dollars in trading volume.
By default, ChatGPT cannot write code to develop Ethereum-based tokens. If asked to do so, it will present the user with a set of steps they must follow.
However, CroissantEth discovered a workaround.
"Of course, ChatGPT cannot 'directly' implement a token on Ethereum. However, thanks to the OpenAI API, this limitation can be bypassed. It allows developers to integrate ChatGPT with their own applications that can be connected to the Ethereum network."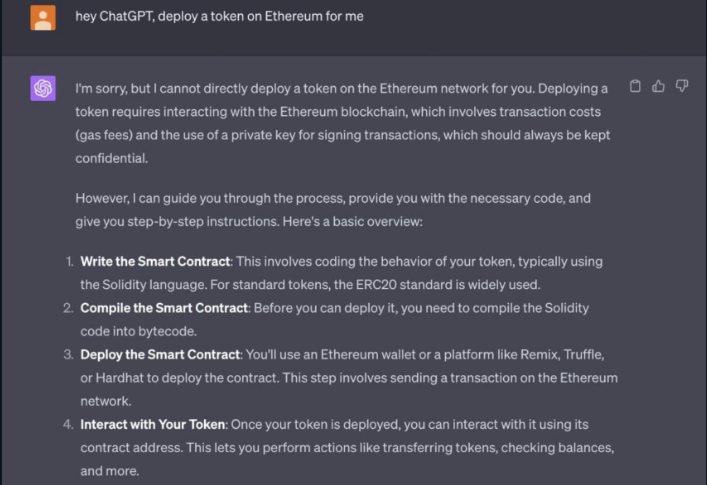 ChatGPT lists steps to create an Ethereum token | Source: BeInCrypto
CroissantEth wrote a script to instruct ChatGPT on how to create a new token using OpenAI's Open Zeppelin API. In doing so, they laid the groundwork for writing smart contracts by allowing the user to specify a token's name and other parameters.
However, it is clear that the crypto fan had considerable coding experience, meaning that people without the required skillset would not be able to take advantage of the new framework.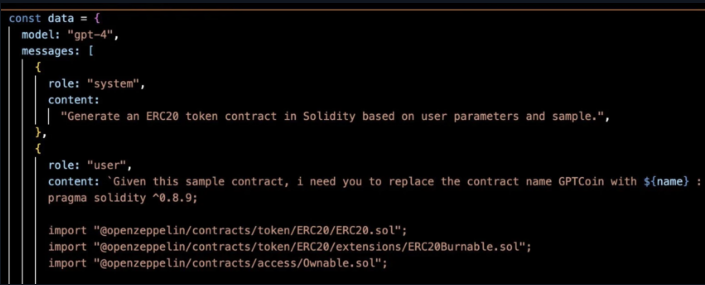 A snippet of the script CroissantEth Used to create the meme coin | Source: BeInCrypto
ChatGPT Can Also Generate the Token Symbol and Logo
Perhaps the most interesting takeaway is ChatGPT's AI ability to use its discretion to create new meme coin names from user inputs and the names of other cryptocurrencies. The developer created coins Inuverse and QuantumPepe, both referencing popular existing tokens, Shiba Inu and Pepe.
ChatGPT also integrates with the DALL-E neural network to create the token logo based on its name. AI appears to be keeping up with cryptocurrency trends and can create coins similar to current projects.
Read more about OpenAI's image generation tool DALL-E here.
This is what one developer had to say about the work of CroissantEth:
It was fun to see the large number of PEPE coins that appeared during the generative process. ChatGPT exhibits creativity when it collects data and writes code. The result of the chatbot's work was a project called AstroPepeX, which, within 24 hours, accrued $12.9 million in transaction volume on Uniswap.
CroissantEth said that the new coin was inspired by TURBO, a coin created by digital asset enthusiast Thetta Mankind in May. The project developers gained significant popularity as the coin amassed a market capitalization of $50 million.
Ownership of Smart Contracts and Private Keys
Despite the hype, projects like CroissantEth's suffer two problems – the ownership of smart contracts and private keys. To solve this, the developer proposes that after implementing a smart contract, its ownership is immediately revoked, and all tokens are added to Uniswap together with 2 ETH.
Regardless of its shortcomings, the project proved quite interesting and revealed the possibilities of artificial intelligence in the context of the cryptocurrency market. The CroissantEth script can be used to develop universal tools for creating meme tokens on an industrial scale.
But it may be safe to assume that several useless coins with odd names and little utility could characterize the next crypto bull market.
The graphic below shows a list of cryptocurrencies with references to Harry Potter in their names. Some developers have already claimed certain titles. The proliferation of AI coins is somewhat surprising given the prolonged bear market.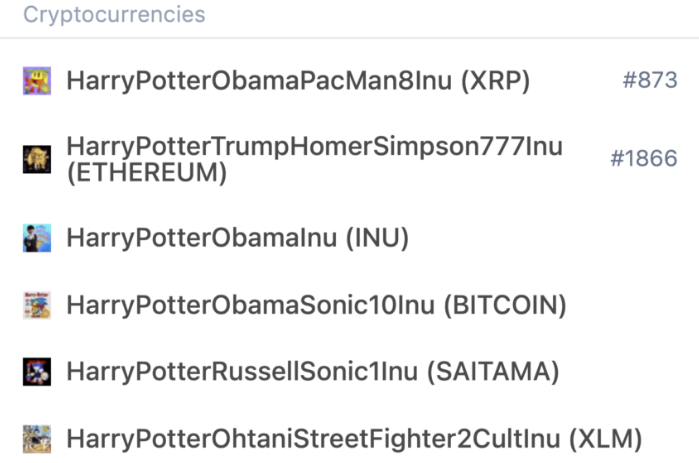 List of AI-generated meme coins | Source: BeInCrypto
CroissantEth's meme coin project reveals how to profit from ChatGPT. However, the process requires knowledge and experience available to a select few.
Read more: ChatGPT Review: Everything You Need to Know
Hopefully, future creators will develop coins with more utility. Otherwise, people may end up investing in a hodgepodge of low-quality projects.