Following a testnet period, the Lumerin hashpower marketplace is set to launch on the Arbitrum One network, offering a decentralized platform to buy, sell and trade Bitcoin mining hashpower.
Lumerin's new platform, officially launching on Sept. 26, is designed to iron out the "peaks-and-valleys" in Bitcoin mining operations, enabling miners and non-miners alike to buy and sell hashrate computing capacity through smart contracts, setting parameters like hashrate amount, duration and price, according to a statement.
All transactions are trustless and peer-to-peer, with payments made in real-time upon contract completion, Lumerin noted.
Lumerin argues the marketplace helps businesses manage operational risk, enabling them to set fixed prices that provide predictability in their earnings. It also reduces the need to invest in rapidly depreciating equipment, allowing miners or other participants to add or reduce their Bitcoin hashpower dynamically. Another use case would enable miners in low-cost electricity areas to arbitrage their cheaper Bitcoin mining production by selling their hashpower at global market rates.
The decentralized data routing protocol project said the decision to select Arbitrum for its hashpower marketplace came down to user experience, faster transactions and reduced gas fee benefits, making Bitcoin hashrate trading more liquid and accessible.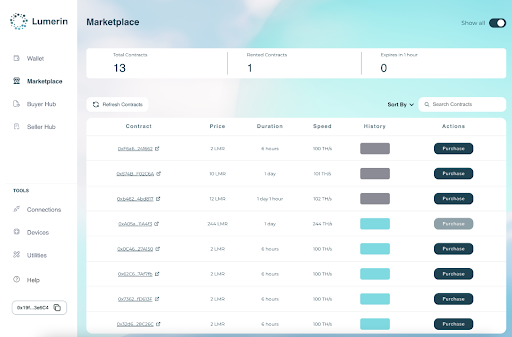 Lumerin hashpower marketplace. Image: Lumerin.
Decentralizing Bitcoin mining
Overall hashrate on the Bitcoin network is currently at record highs, according to The Block's data dashboard, corresponding with a decline in average miner revenues since a peak in May as the market becomes more competitive.
Bitcoin mining pools are made up of multiple entities and distributed globally, but there has been some concern over the degree of hashpower concentrated toward a few top mining pools. This has fueled centralization fears, with Foundry and AntPool currently accounting for more than 50% of the network's total hashpower combined.
However, when the proportion of miners connecting to a particular pool has risen too high in the past, miners have voluntarily pointed their hashpower to alternative pools, improving the distribution.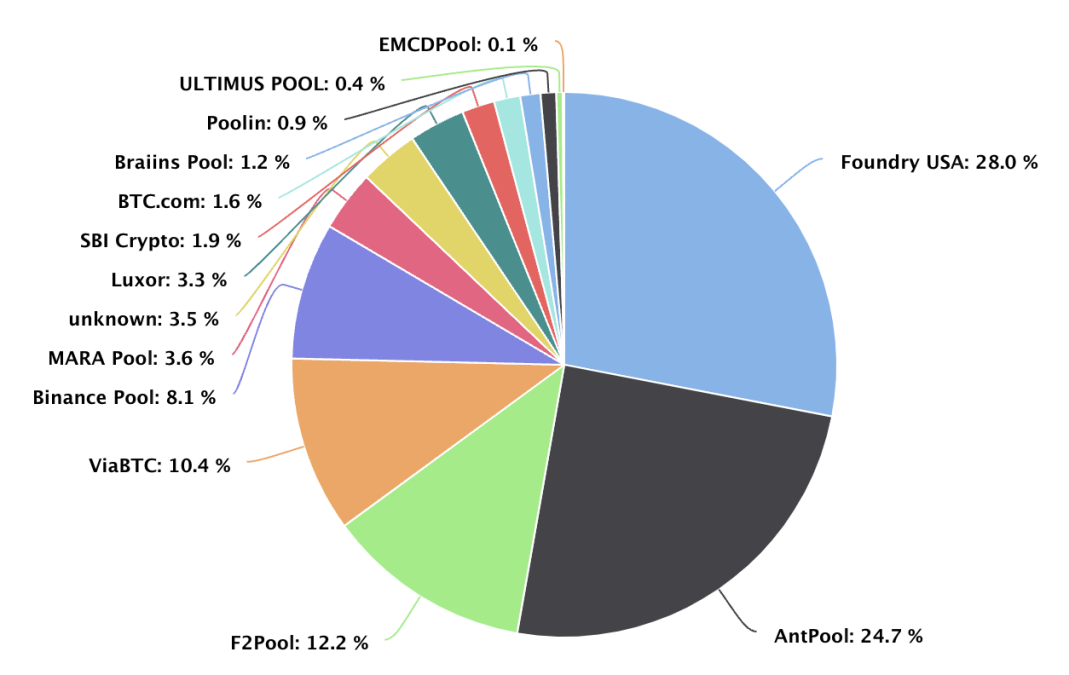 Bitcoin mining pool distribution. Image: BTC.com.
Lumerin claims its platform can help decentralize Bitcoin mining by opening up the market for anyone to buy, sell and trade hashpower without needing their own expensive specialized mining hardware or long-term hosting and energy commitments.
Via the Lumerin Wallet, users can buy hashpower contracts, route that hashpower to their preferred pool and earn mining revenue directly, the project stated.
"Today marks a milestone in our journey to re-democratize mining," Lumerin founder Ryan Condron said. "With the Lumerin Hashpower Marketplace now live, we are starting to restore the decentralization of the Bitcoin mining landscape by providing a direct, accessible path for everyone to be part of the mining ecosystem."