NYU Stern's Center for Business and Human Rights stresses the need for a comprehensive privacy law, warning of significant privacy threats in the burgeoning metaverse.
Despite all of its benefits, the next iteration of the internet poses "unprecedented" risks of the "potential erosion of privacy" and the proliferation of abuse in virtual environments.
According to a report from NYU's Stern Center for Business and Human Rights (CBHR), experiences in virtual reality (VR) may result in profound and lasting psychological harm.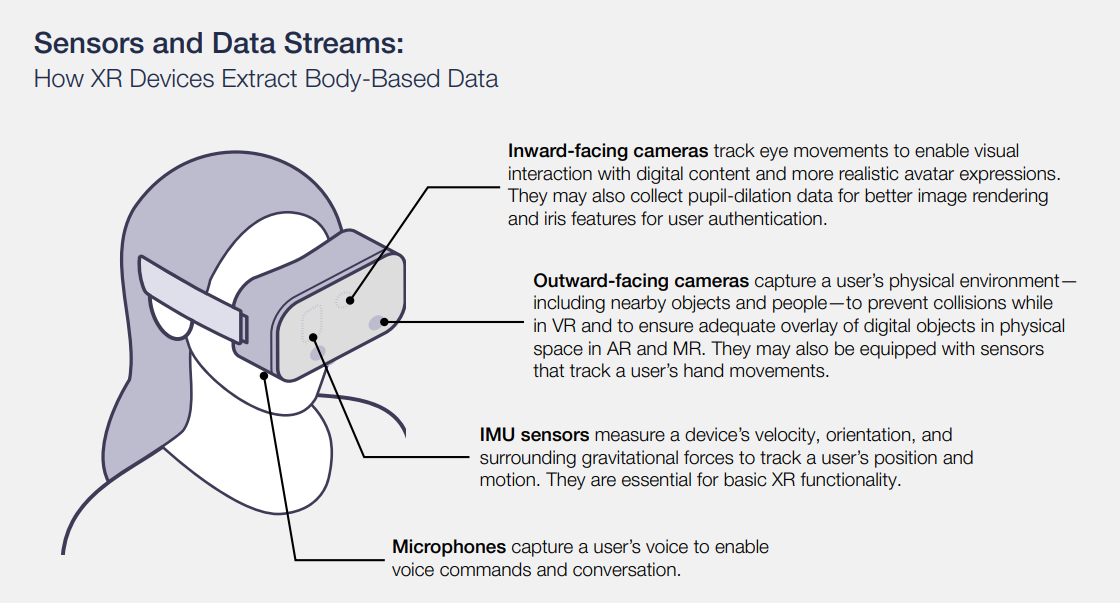 The scheme of how VR devices collect data from a user | Source: NYU Stern
The report says the main issue is not how emerging devices like VR headsets work but how they use the collected data from users. For instance, scientists at the University of California at Berkeley and Unanimous AI have recently found that even the most basic VR headset with a motion tracker can collect lots of data from a user, including their identity, demographic characteristics, or even health.
You might also like: China to establish regulatory standards for metaverse
Besides privacy issues, lawless virtual spaces open limitless opportunities for abusers. Even physical assault in the metaverse can do harm from a psychological point of view, as people immersed in a VR world have the
sensation that "what they are experiencing is real," the report claims.
The research conducted by Mariana Olaizola Rosenblat, a policy advisor on technology and law at the NYU Stern CBHR, also says the current versions of the metaverse mostly remain undeveloped. Meta's Code of Conduct for Virtual Experiences remains "ambiguous and under-inclusive," Rosenblat notes.
"It is unclear whether Meta monitors closed spaces — which it analogizes to "your own living room" — for illegal or egregious behavior like child exploitation or extremist recruitment that is unlikely to be reported by the individuals involved."

Mariana Olaizola Rosenblat
The report says Congress should pass a "comprehensive privacy law" to protect consumer privacy and limit the use of body-based data. It also urges the government to reinforce the Federal Trade Commission's mandate to protect consumers against "unfair and deceptive practices by technology companies" and to form a federal body tasked with this mandate.
Meta, in its turn, does not see any red flags to abandon the development of its metaverse. On Sept. 14, the Menlo Park-based social media giant announced that Horizon Worlds, its collaborative VR platform, is coming to mobile devices and the web in early access.
Meanwhile, Meta launched a new program for teachers in the U.S. to inspire students to explore the opportunities of the metaverse. As crypto.news reported, the company collaborates with 15 U.S. universities actively embracing immersive learning. They include Stanford University, Arizona State University, New Mexico State University, and others.
Read more: Meta committed to metaverse despite $3.7b Q2 loss