Prominent distressed-debt moguls are diving into the FTX bankruptcy claims arena, seizing debts at bargain prices with aspirations of lofty profits. This year, Silver Point Capital, Diameter Capital Partners, and Attestor Capital have acquired over $250 million in FTX claims, court records reveal.
Report Says $250 Million in FTX Claims Acquired by Investment Heavyweights
FTX debt's market has been supercharged as attorneys unearth assets. Some of these claims are now trading north of 30 cents on the dollar, noted Bloomberg's Jeremy Hill this Thursday. The untapped market for bankruptcy claims lets investors snag unpaid claims at slashed prices. Bankrupt entities like FTX often see their claims bought for mere cents on the dollar.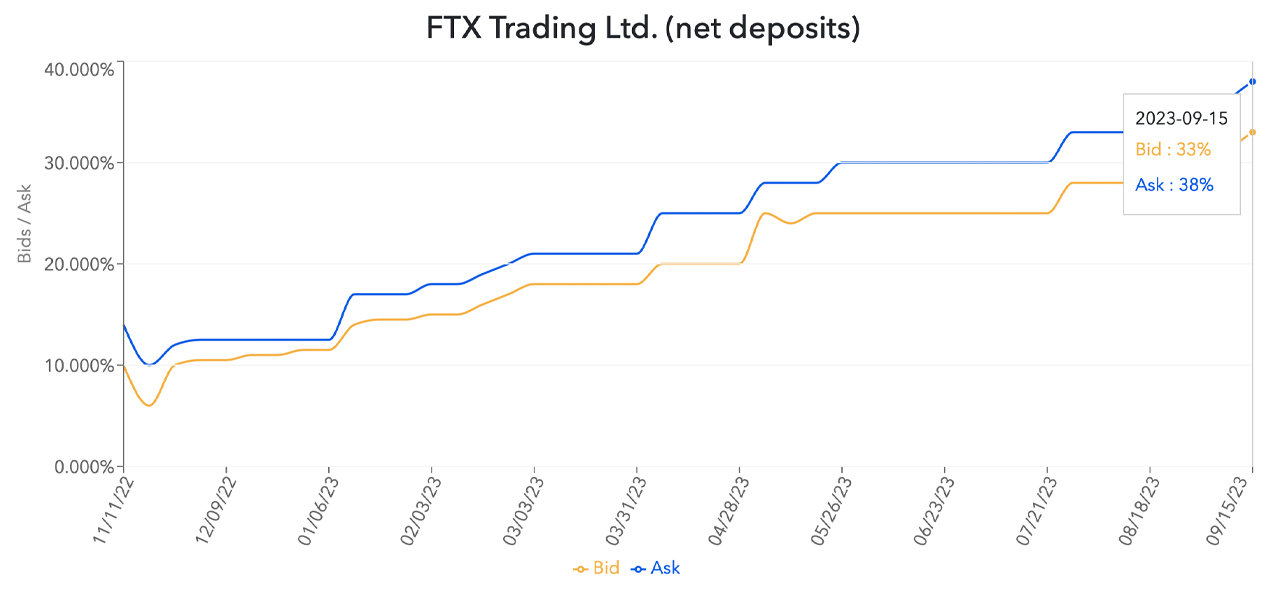 According to a Bloomberg analysis coupled with court documents, Attestor Capital, Silver Point Capital, and Diameter Capital Partners have snapped up over $250 million in FTX claims since the outset of 2023.
Based on insights from Claims Market, FTX claims hovered around 33% of net worth as of September 15, 2023. This is slightly below the claims linked to the bankruptcy of crypto lender Celsius Networks, which have traded at about 34 cents on the dollar. Meanwhile, claims from Genesis Global Capital are fetching around 50% of their total value, according to claims-market.com.
"People made careers off of Lehman and Madoff — I think people see FTX as a Lehman or Madoff" opportunity Thomas Braziel, an investor in bankruptcy claims told Bloomberg on Thursday. His reference pointed to debt trades from the collapsed Lehman Brothers and the notorious Ponzi scheme orchestrated by Bernie Madoff. Braziel further mentioned:
The guys that are buying in these dockets, I consider them some of the smartest people in distressed.
Historically, investors who incurred losses from the Mt Gox debacle offloaded their assets below the claim's value. Bernie Madoff's victims traded claims to opportunists amid bankruptcy litigations. A report indicates that the bulk of sellers trading claims from Madoff's pyramid scheme were regular investors.
While claims trading ensues post most significant corporate meltdowns, blue-chip investment houses typically sidestep minor bankruptcies. Yet, FTX's glaring implosion, coupled with the discovery of billions in crypto assets, has magnetized heavyweight investors. Lawyers have also recouped funds squandered on dubious deals allegedly orchestrated by FTX's Sam Bankman-Fried and associates.
The Enron debacle marked a monumental corporate bankruptcy in financial annals, and those claims too traded at steep markdowns. The core strategy? Investors snapping up unsettled FTX bills on the cheap, aiming to reclaim more than their initial outlay. Bankruptcy resolutions can stretch on, casting shadows over FTX's real worth. Nonetheless, for the seasoned distressed debt aficionados, the prospective big-time gains eclipse the uncertainties.
What do you think about FTX claims being sold for $0.33 on the dollar? Share your thoughts and opinions about this subject in the comments section below.