The cryptocurrency industry has struggled to counter the view that it facilitates money laundering. The latest enforcement action by the Securities and Exchange Commission (SEC) is a reminder of how pervasive money laundering, and the lack of safeguards against it, are among the most reputable and powerful financial institutions.
The SEC has fined DWS Investment Management Americas, a Deutsche Bank subsidiary. One charge is failing to adopt adequate anti-money laundering (AML) policies. A separate charge faults DWS for inaccurate disclosures regarding its environmental, social, and governance (ESG) practices.
The SEC Pursues Deutsche Bank's DWS for Lack of AML Program
According to an SEC statement, DWS was not merely guilty of a passive failure. It did not simply overlook the development of an AML program.
Rather, the agency charges that DWS "caused mutual funds it advised to fail to develop and implement a reasonably designed AML program" pursuant to its obligations under the Bank Secrecy Act and Financial Crimes Enforcement Network rules.
The statement quotes Gurbir S. Grewal, director of the SEC's Division of Enforcement, who blasts DWS's compliance failures. According to Grewal, DWS failed in one of its basic duties. Namely, to make sure that the multibillion-dollar mutual funds it advised had AML programs with their specific profiles and operational risks in mind.
To have such programs in place is in the funds' best interest as well as being a strict legal requirement.
"Importantly, those AML obligations require mutual funds to establish and implement individualized programs to detect and prevent money laundering and terrorism financing," Grewal said.
For these AML failures, and the separate ESG misreporting, DWS must pay a fine of $25 million.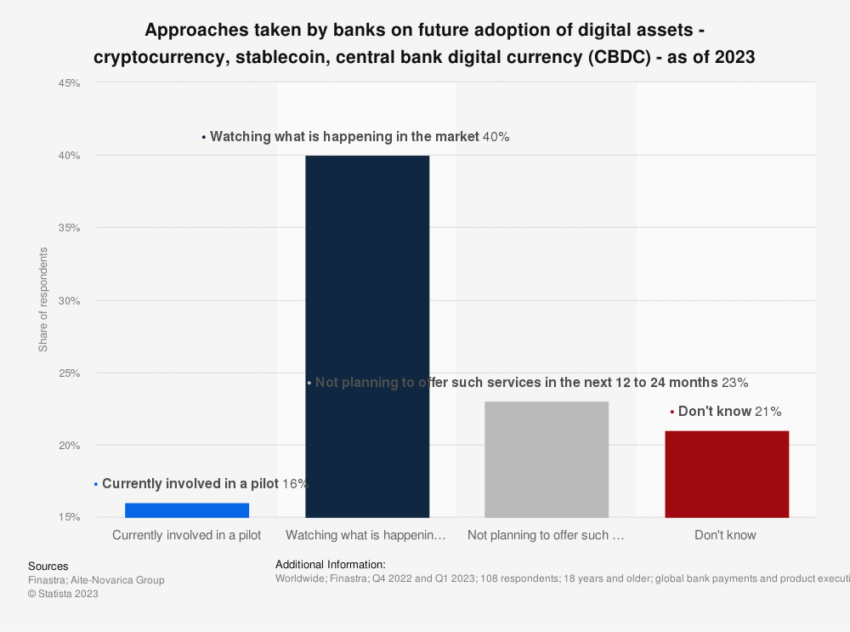 Many banks are weighing whether to enter the crypto space, but Deutsche Bank subsidiary DWS's lack of robust AML programs may deter prospective investors. Source: Statista
Deutsche Bank FUD Grows Steadily
Deutsche Bank has been exploring the idea of establishing a digital asset custody venture since at least 2020. In February of this year, a Bloomberg article stated that the bank was weighing buying shares in two Frankfurt-based firms active in digital asset investing and trading.
But as things stand now, it is still not widely seen as a player in the crypto space. The DWS breaches stand as a reminder that money laundering is far from the exclusive domain of crypto.
The SEC's move against DWS is the second embarrassing development involving a current or former Deutsche Bank affiliate in a matter of days.
Just last week, former Deutsche Bank investment banker Rashawn Russell, pled guilty to helping himself to funds from clients. He had courted them with promises of a crypto investing opportunity.
Though Russell has entered into a plea agreement, he will have to pay more than $1.5 million in restitution. When sentenced, he faces up to 30 years in prison.
The reputational problems of a mainstream financial problem appear to be growing. Time will tell whether Deutsche Bank can retain investors' faith and trust as it explores taking a larger position in the crypto markets.