Back to the list
Long Awaited Terra Classic Project Terraport Finally Launched
thecryptobasic.com
31 March 2023 18:40, UTC
Reading time: ~2 m
---
The launch of the platform follows several months of tireless development work.
Terraport, the long-awaited Terra Classic (LUNC) DeFi platform built by the TerraCVita development group, has finally launched after several months of anticipation. The platform will feature a LUNC-based decentralized exchange (DEX) and a launchpad for the Terra Classic ecosystem.
The Terraport launch, which occurred according to the schedule outlined on the roadmap, was announced today on the project's official Twitter handle. The 16:00 (UTC) planned launch was delayed due to the loading of liquidity pools. The launch comes three days after the token distribution event for TERRA, the ecosystem's governance token.
It's finally arrived the day #TerraClassic has been waiting for.

🚀@_Terraport_ launch day🚀https://t.co/LxNZZyDnC1

Join us now and make #crypto history and help start #LUNC recovery.

NFA, DYOR ♥️

Helping make @_Terraport_ a success will:

✅Create new $LUNC trading pairs… pic.twitter.com/kXa4x26cGz

— Terraport Finance (@_Terraport_) March 31, 2023
A quick dive into the platform shows that DEX functionalities have already been activated as of press time, allowing investors to swap among three tokens: Terra Classic (LUNC) and TerraClassicUSD (USTC), and TERRA. The platform also features a TERRA staking functionality with an APR ranging from 16% to 60%, depending on the lockup period.
Moreover, the platform allows investors to add to the liquidity pools. If you contribute funds to a liquidity pool, you can earn a portion of the fees generated on all trades made with that pair of assets. The amount of fees you earn will be proportional to your contribution to the pool. These fees are automatically added to the pool in real time and can be collected when you withdraw your funds from the pool.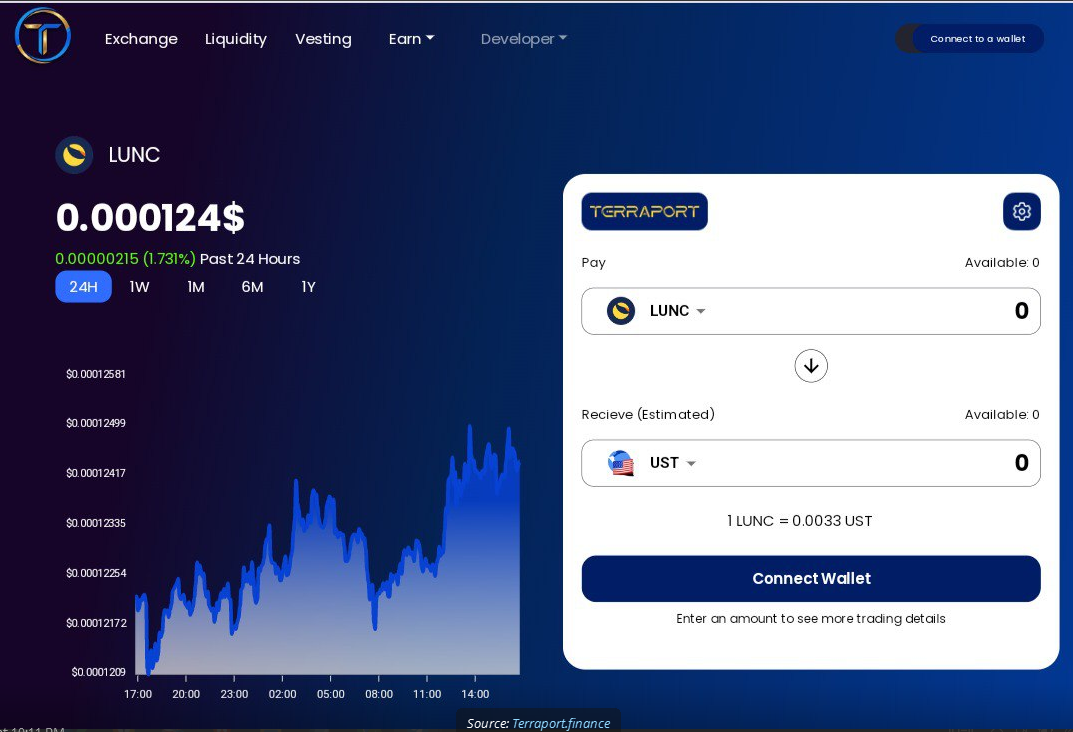 Terraport
Terraport's Promise to the LUNC Ecosystem
According to previous disclosures, Terraport is expected to help bolster the growth of the Terra Classic blockchain on its journey to revitalization by serving as both a decentralized exchange and a launchpad. At its initial launch, Terraport will only feature a DEX with functionalities such as token swaps, staking, and liquidity provision.
Per the roadmap, TerraCVita will integrate an entertainment segment into Terraport in Q2 2023 and release the Terraport V2 in Q3 2023, which will come with a launchpad. Terraport V3 will be introduced in Q4 2023 with a cross-chain pool functionality.
TerraCVita plans to buy back and burn LUNC with 27% of the fees accrued from Terraport, contributing to the asset's burn initiative. The platform will also help introduce utility to the Terra Classic ecosystem. As a launchpad, it will be poised to help bring projects into Terra Classic.
---
Source
---
Back to the list