Frog-themed cryptocurrency Pepe (PEPE) saw a mild uptick in Monday's trading session as the entire cryptocurrency market dipped.
At the time of writing, PEPE was up 1.44% in the last 24 hours to $0.0000006861. This is significant as the majority of cryptocurrencies traded in the red, with Bitcoin down over 2% to trade near the $26,000 mark.
PEPE's trading volume has increased by more than 55% in the previous 24 hours, prompting the question of whether interest in the frog-themed cryptocurrency has finally returned. Over $65 million in PEPE tokens were traded in the past day, representing a significant rise in volume for the PEPE asset.
Despite a slight uptick, the PEPE price remains largely unchanged, having declined steadily from highs of $0.00000188 attained in mid-July.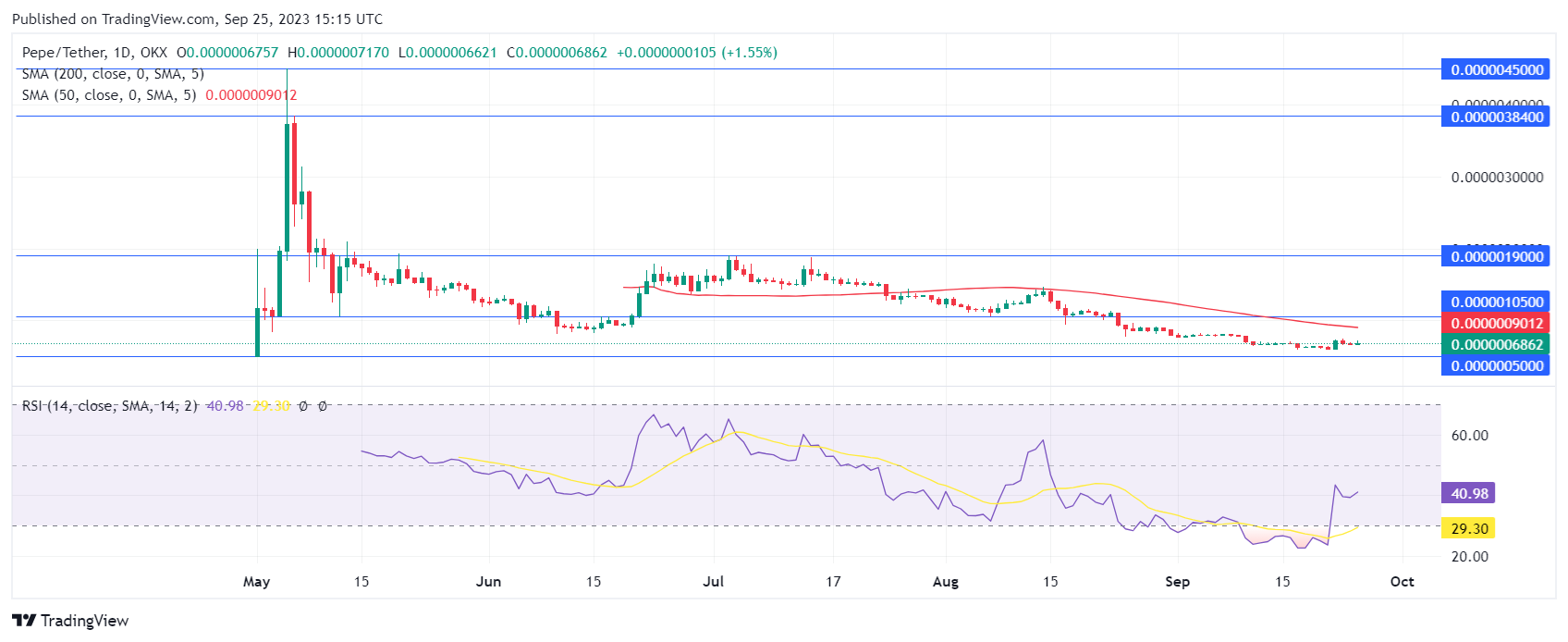 PEPE remains constricted in a trading range below its daily MA 50 at $0.00000089. The daily RSI also sustains below the neutral 50 mark, indicating that the consolidation might take a little while longer before the next major move.
On-chain indicators are not portraying a bullish comeback for the frog-themed crypto asset either. The "Asset Activity Matrix" Santiment indicator model, which has been updated to indicate a new Hot and Cold tab to reveal how much the activity on a network is increasing or declining in on-chain and social activity, suggests where PEPE now sits in this regard.
Altcoins like PEPE stand out as cold assets in the asset activity tracker. In the last 90 days, these tokens, including PEPE, have had unusually low activity.
The narrative for PEPE has not been the same again after an internal conflict led to three former team members stealing 16 trillion PEPE tokens, or 60% of the 26 trillion PEPE tokens in the multisig wallet.
The announcement on Sept. 9 by the official X account of PEPE that reported a security breach in the Pepe Telegram account did not help matters. According to the announcement, the old Telegram account has been compromised and is "no longer" under the team's control.