Widely followed crypto analyst Benjamin Cowen says that a lot of altcoins are being primed for another collapse some time this year without a recovery.
In a new video update, Cowen tells his 787,000 YouTube subscribers that an "altcoin reckoning" is on the horizon – one that many crypto assets won't ever come back from.
"While I would agree the altcoin market as a whole will eventually go back up, there's a good chance that a lot of the altcoins today are not part of that. Some of them probably will be, and some of them probably will see new highs, eventually.
Unfortunately, many of them will likely not see new highs and so you could have sort of a scenario where the altcoin market just sort of spends some time in [$323.5 billion] range, maybe eventually comes back down to [$290 billion range], and then just capitulates and [falls even further] into the depression phase before coming out of it in 2024."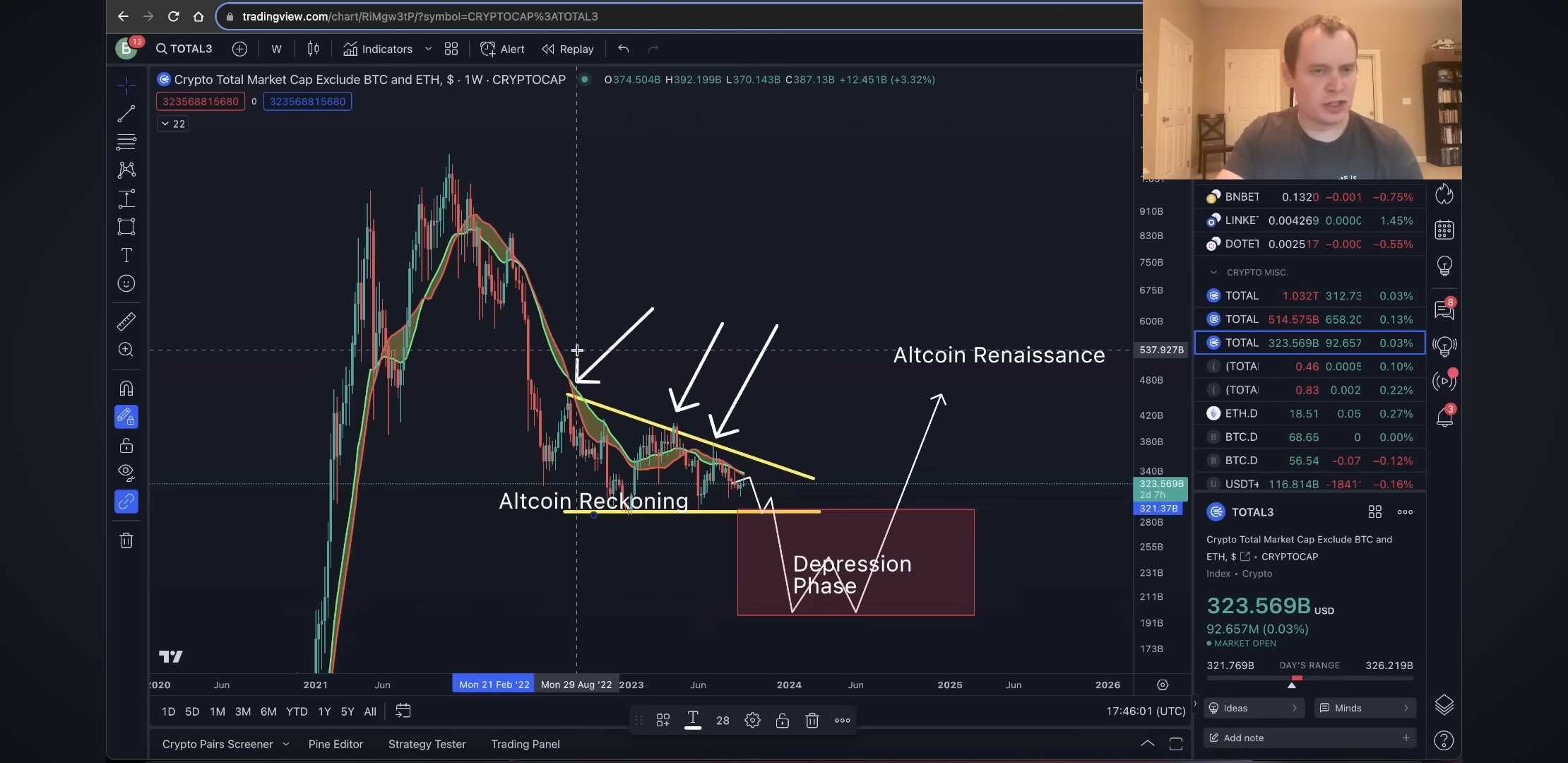 Source: Benjamin Cowen/YouTube
According to the strategist, altcoins will have a "renaissance" after their depression phase when the Federal Reserve pivots on its monetary policies. Cowen says he expects the Fed to reverse course sometime next year.
"I do think [the depression phase] is coming, and then I think what comes after is the altcoin Renaissance, but that doesn't come until the Fed pivots, more than likely. I don't think the Fed is going to pivot this year. There's a chance that they pivot this year, but I just don't think they're going to.
If they do pivot this year, that doesn't mean the altcoin market is going to immediately go back up. It could take a little while because if they do pivot this year, they would only cut a very, very small amount."
Generated Image: Midjourney