Payments on IOTA and Shimmer Mainnet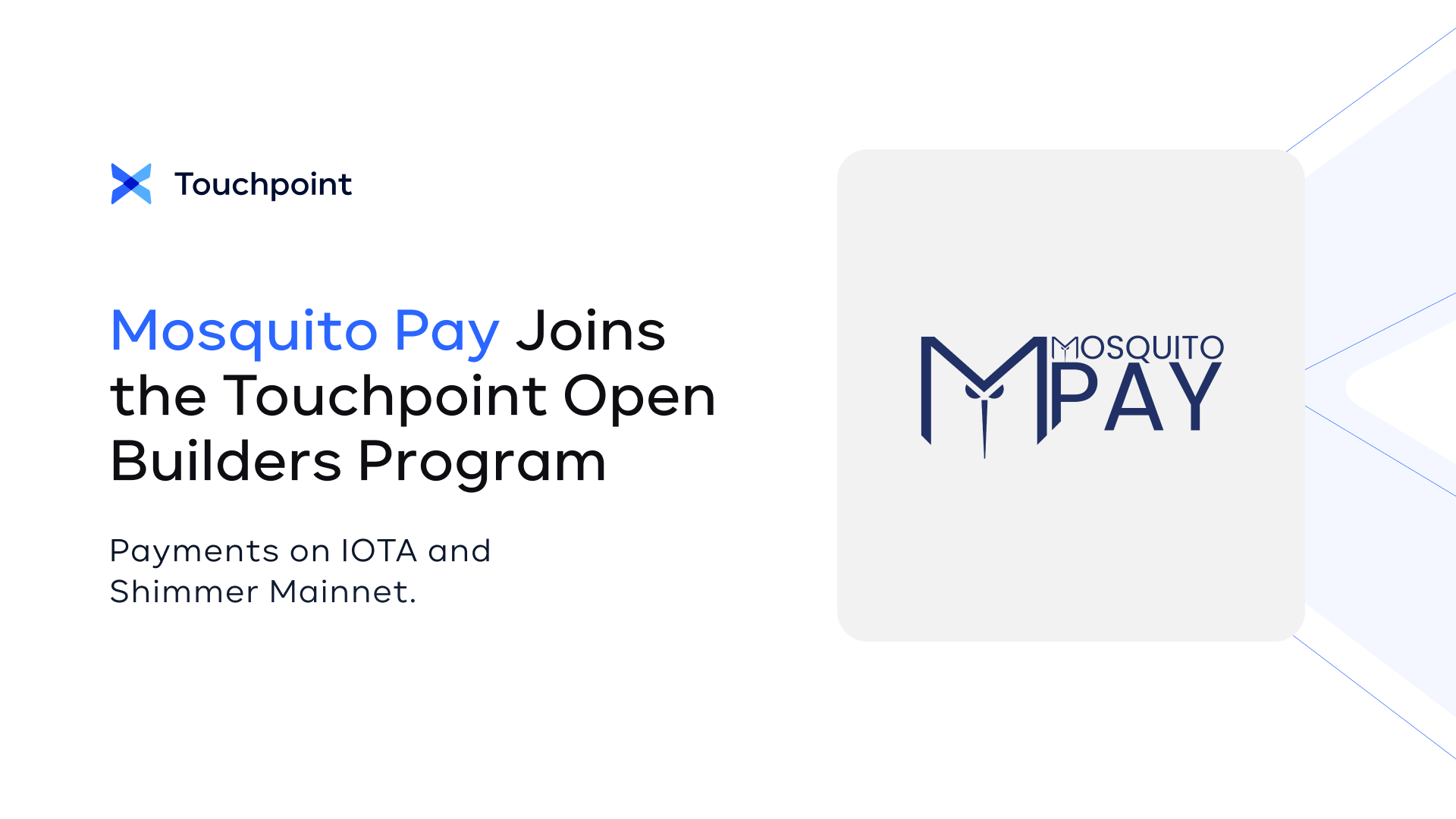 Mosquito Pay joins the Touchpoint Open Builders Program with the aim of enhancing blockchain-supported money payments in the digital and real world.
The goal of Mosquito Pay is to enable manual payments via computer or smartphone to be realized on the IOTA mainnet – for example, when making a purchase at an online web shop, at an in-store point of sale, or at in-app or in-game purchases.
Meanwhile, automated payments – such as machine-to-machine payments – will happen through smart contracts on the Shimmer network.
Mosquito Pay enjoys a first-mover advantage to dive into mass market adoption: we'll let them introduce themselves in their own words.
Mosquito Pay is designed to support fiat, digital, and automated payments. We enable fast, secure, reliable, and convenient cryptocurrency payments. We provide sellers and buyers with a seamless bridge for buyers to transfer cryptocurrency to the seller's wallet: test our Pay With IOTA plugin at https://wp.mosquitopay.io. Meanwhile, our transaction listener runs in the background, listens to the transaction, confirms it, and releases the desired service.


Using Shimmer, Shimmer EVM and multi-chain technology enables endless seamless blockchain money payments in the digital and real world. Watch this video for a closer look at the payment processes in three different use cases: Electric Vehicle charging stations, car parks, and smart metering devices:




The main advantages of Mosquito Pay will be:

Low fees: Using Mosquito Pay saves sellers fees, making us competitive in the market. For example, when compared with traditional FinTech or credit card payment providers, sellers save up to 40% of fees with micro-transactions below 10 euros. Mosquito Pay still needs to charge a flat fee of 1% to support the team in figuring out legal solutions, running nodes, and developing and maintaining this Web 2.5 solution.
Programmable money: Mosquito Pay leverages the advantages of programmable money: the highest degree of automated money payments for daily routines in smart cities. For example, a driver can simply pay by exiting the car park without having to search for a physical coin; or a municipality pays for its water consumption directly to the water supply company using smart contracts that register the precise water usage via smart metering devices, saving time, money, and energy. And not forgetting the limitless potential use cases to automate crypto money or digital money (CBDC) payments.
Protection against volatility: To protect retailers and webshop operators from volatile exchange rates relative to fiat money like USD or EUR, Mosquito Pay provides a convenient solution to swap the incoming non-stablecoin payment for stablecoins automatically. Furthermore, at a previously defined limit (e.g. 500 EUR), the retailer can choose the service to automatically off-ramp the crypto money to a traditional bank account. So the retailer has no risk of volatile assets and can liquidate the income regularly. Both services happen on low-fee structures.



Launched in 2019, Mosquito Pay has an 11-person team with expertise in various areas such as mechanical engineering, electrical engineering, software engineering, UI/UX development, IT infrastructure, accounting, financials, legal, taxing, marketing, and business intelligence. We collaborate with other IOTA and Shimmer ecosystem projects, and our official partners are TangleSwap, TanglePay, and TangleBeasts. Our goal is to become a Software-as-a-Service provider in the emerging field of programmable money.

Compared to our competitors, Mosquito Pay has the advantage of early development and of being on a feeless Layer 1 DLT, specifically the Tangle. Our code is modular, containerized, reliable, secure, and scalable. No bank account is required and we've designed a legal solution that complies with German and EU regulations.

We've recently achieved our latest milestone, which is a test web shop that offers the opportunity to make payments using Mosquito Pay's alpha version blockchain payment plug-in, compatible with WordPress WooCommerce and set for future implementation. We invite you to stress test the alpha.

Our first real-world adoption will be integrating with a point of sale that accepts IOTA, SMR, USDC, or BTC L2, in addition to traditional credit and debit cards. We are in contact with three major point-of-sale providers in Germany, Italy, and Türkiye, who collectively manage up to 41 bank APIs. Mosquito Pay may be the 42nd party to offer various crypto payment options.
---